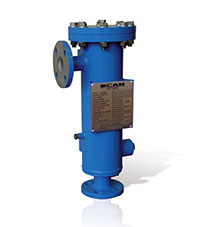 Filtration of self-lubricating liquids: cutting fluids, fuel circuits, hydraulic control circuits, etc.

Viscosity: Up to 300 Cst
Filtration micron rating: From 10µ to 300µ nominal
Flow rate: Up to 500 m3/H
Temperature: Up to 100°C
Pressure: from 2 to 40 bar


Special fabrications on request to satisfy special conditions.
Construction according to CODAP or ASME, compliant with European Pressure Equipment Directive 97/23/EC.